BAERI engineers demonstrate network for global coral reef assessment at NCSL
Alan Li and Jarrett van den Bergh attended the National Convention for State Legislators (NCSL) held in Los Angeles, CA, July 30 – August 2, 2018.  Li and van den Bergh presented their work on the NASA NeMO-Net project, a citizen science game where players help NASA classify coral reefs and other aquatic ecosystems by painting on 2D and 3D images of coral.  They talked to local legislators and senators from around the US, as well as a few international representatives about the importance of protecting our coral reefs and what NASA was doing to tackle that problem. They set up a prototype of their coral classification video game for visitor participation.  Li and van den Bergh are team members of the Laboratory for Advance Sensing (LAS) located at NASA Ames and under the direction of Dr. Ved Chirayath. The NASA LAS focuses on science driven sensing and technology development for next-generation instruments that help to better understand the world and benefit humanity. Its primary focus is on developing novel instrumentation and information systems to advance NASA's Earth Science objectives.  One of the NASA LAS innovations is the development of Fluid Lensing which allows viewing of coral above water without the distortion of sunlight caused by ocean waves. The team uses a drone equipped with their FluidCam to fly over coral reefs and capture the imagery that is scanned into a 3D model. As van den Bergh says, "Fluid Lensing allows to make it look as if the water wasn't there."
For more information about Fluid Lensing, Ne-MO Net, and other projects that LAS is developing, visit their website at https://www.nasa.gov/ames/las.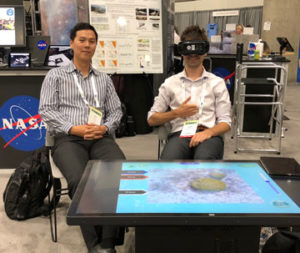 << Alan Li (right) and Jarrett van den Bergh at NCSL Legislative Summit at the Los Angeles Convention Center.
< Jarrett van den Bergh assisting a visitor using a virtual reality (VR) mask to view a coral reef in American Samoa using Ne-MO Net's Gear VR app.  The app depicts the coral reef with and without water and demonstrates the effects of Ne-MO Net's algorithm.