Dr. Darlene Lim in the News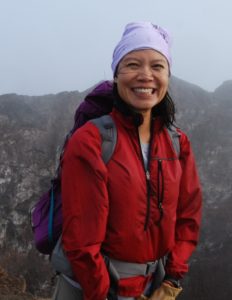 BAER Institute Research Scientist Darlene Lim has appeared in a number of articles about her work with NASA related to for future missions to Mars and other planets.
Kilauea Eruptions and BASALT
Dr. Lim, a geobiologist working with the Planetary Systems Branch, is the principal investigator of the NASA-funded project known as Biologic Analog Science Associated with Lava Terrains (BASALT).  She and her team have been conducting research on the island of Hawaii for the past few years to develop methods for conducting research in difficult conditions similar to those on other planets. They have also worked with the U.S. Geological Survey in studying volcanic rock, known as basalt.  Because the surface of Mars is covered in basaltic rock, scientists studying basalt have discovered chemicals that could provide energy for bacteria, a necessity in the formation of life.
Read more about the BASALT Team's work on the Big Island and how the Kilauea eruptions are providing more opportunities for understanding the future of interplanetary missions:
New York Times, "Kilauea Volcano's Lava Fields Offer Scientists a Portal to Mars"
https://www.nytimes.com/2018/05/28/science/kilauea-volcanos-lava-fields-scientists-mars.html
Newsweek, "Is There Life on Mars?  Volcanic Mount Kilauea Might Hold the Answer"
http://www.newsweek.com/there-life-mars-volcanic-mount-kilauea-may-hold-answer-947814
The Daily Express, "Hawaii Kilauea volcano could help NASA find Life on Mars in Groundbreaking study"  
https://www.express.co.uk/news/science/967327/Hawaii-volcano-Kilauea-Nasa-Mars-live-eruption-news-USGS-warning-lava-flows
Inverse.com, "Hawaii Kilauea Volcano Lava Fields May Help Astrobiologists Understand Mars"
https://www.inverse.com/article/45292-mars-kilauea-volcano-basalt-could-help-scientists-understand-life-on-mars
Mars Expedition in Iceland
Joining her NASA colleague, Dr. Jennifer Heldmann, Dr. Lim is part of a team that is assessing the conditions in Iceland for planning the exploration to Mars and other planets.  They gave a presentation at Reykjavik University, May 23, 2018, to discuss space exploration using both manned and robotic spacecraft. Drs. Heldmann and Lim believe that Iceland would be a good testing ground for developing such technology and equipment.  They hope to begin this project next year.
For more information:
Iceland Review, "NASA to Prepare Mars Expedition in Iceland"
http://icelandreview.com/news/2018/05/23/nasa-prepare-mars-expedition-iceland
Iceland Monitor, "NASA to prepare Mars mission in Iceland"
https://icelandmonitor.mbl.is/news/news/2018/05/23/nasa_to_prepare_mars_mission_in_iceland/
The Reykjavik Grapevine, "NASA Starts Simulations In Iceland In Preparation For Journey to Mars"
https://grapevine.is/news/2018/05/24/nasa-starts-simulations-in-iceland-in-preparation-for-journey-to-mars/
Matador Network, "NASA is using Iceland to prepare for a manned mission to Mars"
https://matadornetwork.com/read/nasa-using-iceland-prepare-manned-mission-mars/
SUBSEA and the underwater search for life
In addition to exploring difficult terrains on Earth that simulate conditions on other planets, Dr. Lim is leading a team to explore the deep sea environment.  The project, Systematic Underwater Biogeochemical Science and Exploration Analog (SUBSEA) will begin at the warm springs venting up from the sea floor off the Big Island of Hawaii. Known as the Lo'ihi seamount, scientists believe it is a good representation of the conditions on other ocean worlds and Saturn's ice crusted moon, Enceladus.  The project will serve as a testbed for developing technology for human-robotic missions; specifically, teleoperations between Earth-based science teams and the underwater remotely operated vehicles, or ROVs. NASA recently posted a press release on this project: "Systematic Underwater Biogeochemical Science and Exploration Analog (SUBSEA), https://www.nasa.gov/ames/subsea ß